Auriga sponsors BHBN Hospital Radio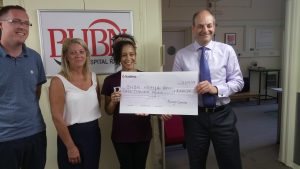 We are delighted to announce that Auriga is sponsoring the BHBN Birmingham Hospital's radio production suite, to be named the 'Auriga Suite'.
When you enter the studio, the dedication of the people (all volunteers) who record and produce the daily broadcasts is what impresses you the most. When we visited the hospital and toured the studio we heard they were actively looking to raise money to build an essential production suite within the studio. Auriga decided to support this much needed service and raised the money required for the complete works.
Donna Joseph, Communications Director said "We are extremely grateful for the support from Auriga Services that will allow us to build a new production suite for the station."
Mark Abrams, Chief Executive Officer for Auriga services commented "The BHBN radio team play an important role as part of overall patient welfare. They entertain and inform. Many people are in hospital for long periods of time and having the hospital radio will help brighten their day. Auriga are delighted to recognise and support BHBN to enable them to build their new production suite."
The radio station was founded in 1952 and covers 6 hospitals within the greater Birmingham area; City Hospital Birmingham, Queen Elizabeth Hospital Birmingham, Birmingham Women's Hospital, Heartlands Hospital, Good Hope Hospital and Solihull Hospital.