Water Companies Transforming Lives
A report has revealed how customers of Severn Trent Water, United Utilities and Thames Water are having their lives transformed.
The Social Return on Investment report evidences that £3.06 is generated for every £1 invested in schemes by the water companies for customers who find themselves in financially vulnerable circumstances.  With over 13,000 customers directly supported in one year, the results show significant improvements in health, housing, employment and family relationships.
Customers responses are glowing
"It has been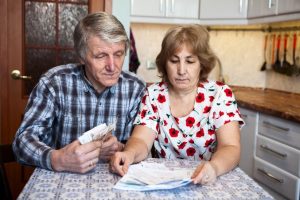 a huge help and also transformed my view of the water company."
"I felt it [getting the grant] was a turning point in terms of my own self and my despondency. It was a light at the end of a very dark tunnel."
Water companies take a specific interest in the experiences of their customers who at some point in their lives may find themselves in challenging circumstances and in need of help. The survey revealed that concerns about money had a detrimental effect on many areas of their lives but mental and physical health were thought to be particularly affected. The schemes are in place to help and support customers by assisting them with awards, money advice and income maximisation services. By helping when needed, the assistance not only has an immediate impact on the customer, it has a wider social influence on their families, communities and society.
It is clear form the report that the funds offered, have in many cases, changed people's lives, and the schemes are supporting a vast majority of beneficiaries who otherwise would not be supported at all.
The impact of assistance provided by the water companies for financially vulnerable customers is clearly substantial.  This research has important policy implications, especially at a period that is marked by cuts to charitable services. Furthermore, the evidence shows that this help makes a long term impact with 82% of grant recipients able to make future water charges.
The research was commissioned by the Trustees of Severn Trent Trust Fund, United Utilities Trust Fund, Thames Water Trust Fund and Auriga Services Ltd – the not-for-profit administrator of all the funds.
The work was undertaken by Ecorys, an international company providing research, consultancy and management services. It is the first time such a comprehensive and independent study has taken place across three of the largest water companies who between them have over 23 million customers.
Mark Abrams, Chief Executive of Auriga Services stated "Every day the lives of customers are improved by the generosity of the water companies. Schemes are specially developed to support their customers who are in a period of need, for immediate and long term help, who have no-where else to turn to for support.
Clive Stone, Chair of Severn Trent Trust Fund stated "For 20 years The Severn Trent Trust Fund with the support of Severn Trent Water has been committed to assist individuals who are struggling to pay their water bills. This report clearly demonstrates the significant positive impact that we have and continue to make to these people's lives."
Linda Perham, Chair of Thames Water Trust Fund stated "The Thames Water Trust Fund is extremely pleased that this report provides significant evidence that the support we offer to vulnerable and needy customers is making a real difference to improving their financial, physical and mental wellbeing"
Debbie Morton, Chair of United Utilities Trust Fund stated "The research undertaken to compile the report confirms the substantial benefit as a result of the donation from United Utilities to our Trust.
We have many examples of families who have been assisted each year since 2005, when the Trust was established, but the holistic impact of our work on customers' lives, is confirmed by the Social Return figure given in this report. What is also important to the Trust is the often life changing effect our work can have, to individuals and their families at this time of financial uncertainty."
Mark Grice, External Relationships Manager, Severn Trent Water stated "We're delighted to see the positive impact made on our customers lives, as highlighted in the SROI report, not only on customers finances but also on their health and wellbeing. One of the most important ways for Severn Trent to support those in need is through the Severn Trent Trust Fund which we started in 1997. Since then we've donated more than £56 million to benefit 300,000 people across our region who have experienced financial difficulties.  The support provided through the Fund, really helps change the lives for hundreds of customers in vulnerable circumstances every day."
A representative of Thames Water stated "As a company, we are here for our customers and we're pleased to see the positive impact we've had on the health and wellbeing of those who really need it. The Thames Water Trust Fund has been instrumental in this and we're delighted to see it is really helping to change people's lives, and we'll continue to offer aid to customers experiencing difficult times."
Louise Beardmore, Customer Services Director, United Utilities stated "The United Utilities Trust Fund (UUTF) is clearly having a fantastic impact on the lives of many thousands of our customers. Since the launch of the UUTF in 2005, we have donated over £58m and this is money well spent. The positive impact that a grant provided by the UUTF on not only the customers financial well-being, but their general health, shows the grant giving policies are ensuring that help is going to those customers who need it most."